Delivering Business Value from Data When Constant Change is a Given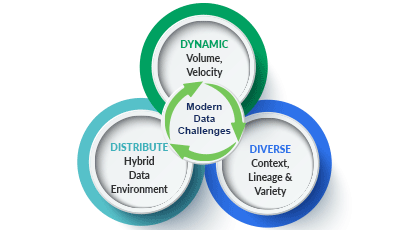 Big Data is evolving. While still characterized by Velocity, Volume, Variety, today's data can best be described as Diverse, Distributed, and Dynamic. Why? The connectivity enabled by digital technologies and devices has created an endpoint explosion, offering banks and enterprises terabytes of potentially valuable data. To extract that value, companies are employing agile data pipelines that can ingest, enrich, analyze and visualize data to deliver meaningful information - and adjust in real time to the iterative nature of data and human decision making. 
Description Block
Built for Diverse, Distributed, and Dynamic Data
Xoriant Adds People, Process, and Accelerators to Existing & New Technology Stacks & Teams
6 Pack Title Desc
4 Stages
Xoriant connects the existing with the new – data, technologies, and processes – across 4 stages. Business demands require ongoing pipeline modifications, incorporation of new data feeds, and change management to integrate analytics reports and metrics. Despite this constant disruption, actionable insights must be derived and delivered to users in near real-time. Xoriant accelerators can quickly build a high-performance data pipeline that business leaders, data scientists, and analysts can navigate easily - from high-level metrics to unlimited drill-downs - to make better decisions, uncover answers to tough questions, experiment, and innovate.
Ingest
Aggregation, streamlining, security:
Data that is not pre-loaded into the data pipeline can be ingested from a wide range of sources for transport to a target site, BI analyst, Ops specialist, or business user for further processing and analysis. Sources may include on-prem historical databases, streaming data from IoT devices, SaaS apps, APIs, various media and documents, and enterprise systems like ERP and CRM. Common ingestion methods include one-time or scheduled batch, real-time or micro-batch streaming, and incremental data transfer. A 4th approach gaining popularity is a Lambda architecture which mixes batch and real-time streaming data processing and makes the combined data available for downstream analysis or viewing via a serving layer, similar to ETL. The choice of methods will depend on your business or IT infrastructure goals, business user or customer requirements, budget limitations, etc.
The variety of data types, contexts, and formats present complex challenges in the ingestion phase. Xoriant can provide knowledgeable, highly skilled data engineering resources that can manage the complexity and diversity, so the end products are contextualized data sets in standardized, search-friendly formats.
Our Unified Data Ingestion Framework helps customers move data from relational and unstructured data sources to Big Data platforms (Hadoop and NoSQL), providing a proven, established pathway to optimize data migration, storage, structure, security, and performance analytics for both on-prem databases and cloud data stores.
Xoriant Any to Any Data Ingestion Framework
Enrich
Preparation, organization, lineage:
A staging area, or landing zone, is an intermediate storage area within the ETL process used for processing raw data so that column names, types, etc. are rule-based and consistent. As source data is constantly changing, this area also retains the source data lineage so discrepancies traced to a source can be addressed quickly within the pipeline itself. To accelerate time to insight, Xoriant engineers can provide advanced expertise with staging methods, tools, and technologies, with deep experience preparing data for AI/ML consumption in the staging layer. Our Xoriant Data Staging Framework automates and manages data cleansing, EDM data attributes (**check), and data governance for efficient and accelerated throughput.
Xoriant Data Staging Framework
Analyze
BI, Text Analytics, Machine Learning, Chatbots
Modern advanced analytics are muscular…big thinkers. Fed the right data, they can assess, predict, or recommend necessary improvements to your operations, supply chain processes, revenue plans, in other words, anything you need to know, right now or for future reference. The problem is there's just too much data coming in too fast for analysts and business leaders to implement a viable, enterprise-wide strategy. According to Gartner, by 2022, only 20% of analytics insights will contribute to business outcomes.
Xoriant combines deep experience and leading-edge technologies to build and support AI-enhanced data ecosystems that automatically aggregate, collate, cleanse and archive data from multiple sources for immediate application or for advanced analysis, so users can improve decision making and delight customers with new innovations.
To simplify and accelerate your time to insight cycles, the Xoriant Advanced Analytics Platform is a data analysis framework with sophisticated data modeling and automation capabilities, including machine learning, to generate actionable, relevant insights with...
Xoriant Analytics Framework
Visualize
Dashboards, reports, charts:
An enterprise's ability to compete hinges on the quality and timeliness of its business insights and how well it translates those insights into effective action. For this, enterprise teams need to contextualize their organization-wide data across key business systems, devices, people, and processes with customized operation-specific data visualization. To facilitate accurate responses, the data consumer must be able to access and manipulate data in easy to read and understand textual and graphical formats.
We develop and leverage performance-proven accelerators and frameworks that empower IT, Ops and LOB teams to make fact-based decisions and take strategic actions by unlocking valuable business insights in the form of intuitive dashboards and attractive, customizable graphs and charts.
Xoriant Visualization Framework


Learn About Xoriant Frameworks for Enterprise IT